Today was a nice day: the flight would be a short one, some 04:30 hrs, and I would fly over nice scenery.
I took it easy this morning, with no rush. That allowed me to prepare the aircraft, prepare my dry immersion suit, refuel, and even chat with David, a very kind Mildura pilot, who is the owner of a Jaribu airplane.
David provided me the gear and helped me to clean the results of shooting down so many flies, with the windshield.
Everybody around was nice, even the taxi driver who had the face of a killer ! That taxi driver told me that a Kangaroo hit a propeller at Mildura airport and bent it.
I think that somebody had Kangaroo dinner that same day!
South Mildura is a farmers area. Quite different from the north area. It was fancy to see how farmers plant trees to form like barriers or limiting fences. Air was soft, stable, and colder.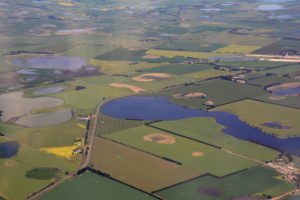 I was slicing it like does a knife through soft butter.
Melbourne ATC was clear on the radio, and again to say that flying VFR in Australia is a good experience.
Again I was in a different kind of remote area, until I reached tle ¨Southern Ocean¨.
Beautiful shore, with nobody around. A dream for surfers and lunch chance for sharks.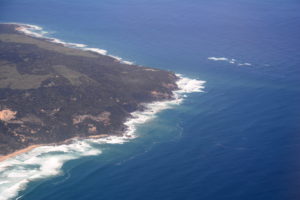 I said bye to Continental Australia, with a very good feeling about my stay there.
Soon, the King Island was in sight, and again, over the sea.
I was not sure to don my dry-suit. So yesterday I checked the water temperature (13 C) and the survival chances (one hour to become unconscious, one to six hours to die !).
No time for any rescuer to help!
Better to be dry if I have to ditch, if I want to survive !
So, those beautiful beaches are for the valiant guys, but not for cowards like myself!
Again, soon, the Albatros Island was in sight, but no way to see those wonderful gliders.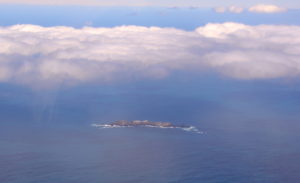 Then was the hunters islands, but from 5500 ft, difficult to sea any sea lions.
Finally, I was entering Tasmania !: what a beautiful area, and shore.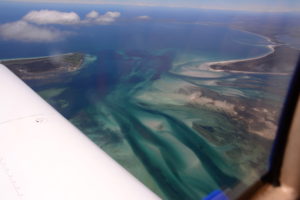 Soon, flat landscape turned into mountains, even with some snow still on them. The landscape was aggressive, plenty of trees, lakes, rocks. Very easy to feel the freedom inside !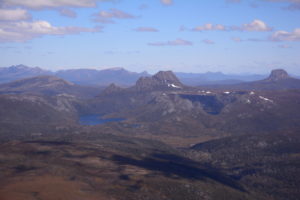 Cambridge airport is just one mile from busy Hobart airport. Three runways are available there!
Operating there requires to be in contact with Hobart Tower. It is very important for them to know where are the Cambridge operating airplanes.
Even though, it was quite easy: EC XLL, cleared to the approach point !
When entering the apron, I was directed to a small area next to the airclub. There was Joy with his crew, registering everything. Joy is the Air Safari man, from Philippines . Also there was Greg, my rescuer, from Par Aviation. He was the nice guy that took reception of the skis, and other stuff I had to receive. Like a true Angel !
Soon, Don Prairie, the President of the South Tasmania Aeroclub, arrived. Same thing !
I really feel well with all of them
What else could I wish?