Brainstorming is going on !
What to do?
Will my engine fail over Antarctica?
Will an emergency arise that would ask for a safe remote snowed spot?
I have been chatting with the french Polar Authority about the use of Dumont D´ Urville airfield, as an emergency airfield.
The situation is the next one: They have a ski way,  that is a snow runway. Even compacting it a few hundred meters doesn´t warrant the plane to flip over on the runway.
Some years ago, as the snow melts in December, a gravel runway was built close to the station and called Piste du Lion. In fact that runway was in the middle of a huge birds reproducing area. The length was enough for C130 operations and that was good. But those birds didn´t want to leave the area, and together with a huge thunderstorm that destroyed partially the runway, the project was stopped and the runway never became inoperative.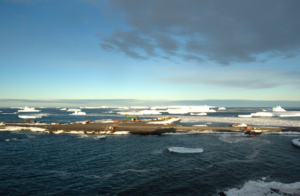 Now it is used as a docking area for ships and plenty of containers are around.
There is room to land, but it is prohibited.
A small ice blue 300 meters ramp is available close to the ski runway. I could emergency land there but the following take off would not be allowed.
It is a fact that Antarctica is white, and white is good for landing on skis, not on wheels.
Besides, Antarctic Logistics Expeditions also complains about wheeled aircrafts, even if the runway at Union Glacier is a Blue Ice one.
So, I have just ordered a set of skis for my RV8 !
Patrick Gilligan, the Canadian Owners and Pilots Association, Vice President Operations, is the designer of those skis, he will be donating his time and is quite helpful. He will have those skis built on time and sent into Hobart, where I would take off into Antarctica.
More weight, more drag….not a good thing, but safety is the key for this project.
With them, also a few other strips will be available! Even the South Pole will be available !
Besides…at Hobart they will not pull my legs when looking at my skis in summer time !
Myself, I will do it !