It was time to leave Sudan.
I was not feeling right there, not because of the people, who were kind, but because of what happened when I was arrested and also with what happened with the young ladies students who wanted to have a picture with me.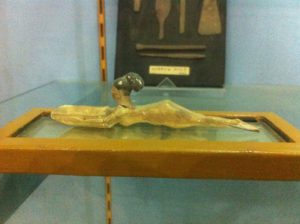 Very old work of the swimming woman, Karhtoum Museum
I understand that those are their rules, but I don´t feel comfortable on those rules that I consider in the extremist side. Reasons are to have Visa banned in Sudan, and that Sudan is a sanctioned country, where you cannot even make transfers.
As I have said, people is people and Government is another thing.
I had my pick up time set a 0615, for a take off at 0800. Airport is 10 minutes away so it should be plenty of time.
For a reason I didn´t understood, the handling operator, called Torch Aviation, wanted me to pay them for the room instead of paying myself directly the hotel.
The price for three nights was $190, and then Torch Aviation handled me the invoice, the price of the hotel was…$360 !!!
Of course I complied
The story is longer, but that delayed my departure: you don´t pay us cash, you are not gonna fly !
Another issue was related with the fuel. I did refuel upon arrival, not full external wing tanks, because I knew that heat would produce a fuel drain.
I was right, but short on my estimate. I have lost may be 50 liters or more !
So it was necessary to refuel again: buying from a gas station, drive it into the airport, and hand pump the fuel.
The flight plan I presented the day before via internet, was not receive, so I had to file one at the airport ( that was around 0640).
Once I have paid all the abusive amounts I was requested (some $2400, including fuel), I entered the plane, started the engine and called Tower..
EC XLL…..we don´t have your flight plan !
I explained it was filed long time ago, and that my engine would start overheating.
Some 10 minutes later, I was cleared to taxi.
Take off runway 36, and right turn to Sudan FIR exit reporting point.
Shallooooow climb, to have air coming inside the engine, and even though I got oil overheat.
Finally, I was at 9000 ft (11500 density) and able to have my breakfast.
Switched to Rear Tank and soon, got CHT (Cylinder Head Temperature) caution…..
That fuel was the Mogas one…
Octane would be much lower than those 95 I bought !
So mixture has to be set rich of peak, and power reduced. That fixed the issue, but cruise fuel flow went to 32 liters per hour, instead of the 29-30 I am used to.
Karthoum was a border line. Desert turned to cultivated farmers lands, and then later, into yellow savannah.
EC XLL, Khartoum, please provide the clearance number…
Khartoum, clearance number for Ethiopia is CAA 1710
That was more or less the last communication with Sudan. And then, no communication with Ethiopia.
Country side was beautiful, but photographing it was not.
Air was filled with sand. I was flying south, with the sun turning from my left into my right, but always glued to my nose.
Altogether, including the dust in the windshield) provided a kind of glare that avoided the chance for pictures.
Ethiopia turned the yellow savannah into a green one.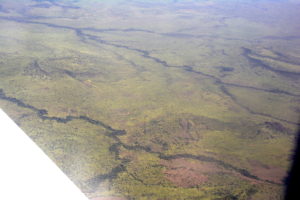 A true pity that heat didn´t allow me to fly lower and seek for animals. Another issue was the countryside, not easy to find a suitable landing stop. Would the engine fail, what should I do?
Parachuting myself, or try to land and get inside the rear of a Buffalo?
Approaching Kenya border, I listened to a Etihad airliner talking to Nairobi.
The english accent was familiar to me…
Etihad de EC…eres español, verdad?
And he was.
We went to 123,45 and chatted for a while. Rodrigo had common friends with me.
Please, Rodrigo, may you tell Nairobi that I am entering their border, and also ask them at waht time the HKML airport closes?
One minute later…
I have informed Nairobi, and they want you to squawk 1265, and confirm Malendi closes at 1600 .
My GPS showed me estimates ranging from 1550 to 1610 z….., so let us fly direct to destination instead of flying to Nairobi NV.
Good !, I could arrive at 1530 !
Also gone was the mogas fuel, and I was now on a mixture of mogas and avgas., so I could throttle forward and accelerate a few knots.
I flew mostly all the time between 8500 and 9000 ft. Even flying that altitude had me buzzing the ground !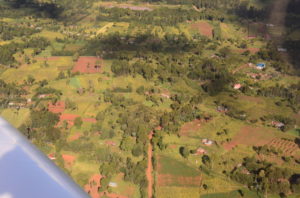 Almost buzzing the ground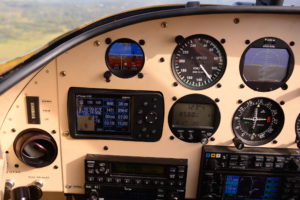 Crossing the Equator
Countryside turned to green rich lands, pretty close to Spanish Galicia, including the cows. Kenya is much richer than Sudan .
EC XLL, Nairobi, fly to NV, military activity doesn´t allow a direct to HKML..
All my joy was over. I had to deviate a lot. Again estimates were close to 1600.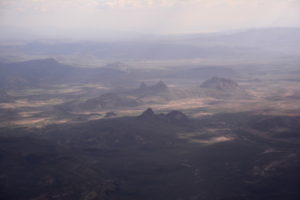 I knew that the winds would be lighter later on, so that would help.
Sun was running down, and my GPS showed a sunset at 1515 UTC
1515 UTC ??????
Which sunset is my GPS indicating? The aviation one or the real one? (Aviation sunset is when the Sun is six degrees above the horizon). The difference is 30 minutes !
Finally, it was the civil one, so no negotiations !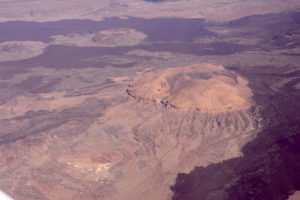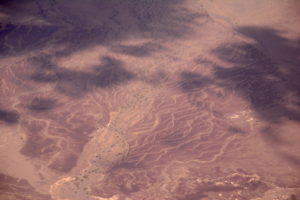 Land turned into drier when approaching Nairobi, old volcanos and strange countryside.
But my mind could not relax…
Soon, communications started with Malindi Tower. They came in garbled, so difficult. I was arriving at 1542, and he was telling me they were closing at 1530 ! ( Nairobi told me 1600 !).
What do you want to do?
You proceed to Mombassa?
I want to land at your airport … I am arriving 12 minutes later.
As I said, all the controllers were kind and this one also. He cleared me for a special VFR and I was cleared to land runway 17.
It was the end of a long flight, with a lot of stress relating with inconsistent information about HKML operation time, and a high speed descent, full continuous power, and a draggy belly fuel tank.
Engine stopped in pitch dark
I kept turning down the plenty of instrument and devices lights, and preparing for the cockpit exit.
I have arrived where I wanted to. First goal is completed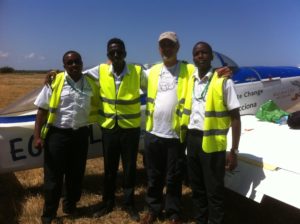 KARIBU !