Why rabbits don´t like Malta?
Because they are cooked the Malta way !!!
But they don´t care the way, just the cooking !
Sorry….
I had to try !
Nice cooking indeed 🙂
The peas served with the rabbit where huge….it was easier to remove them !!!
Everything was fine and straightforward at the airport. Handling agents (mandatory) were nice and helpul. Also the invoice was according the service provided but it was not so welcome !
Once I arrived next to the plane, I had to watch all around and wait for the moment no vehicles were running close to the airplane position.
It was just to avoid laughing when I was on the apron just with my underwear, before donning the flight suit.
When flying overwater I always use the flight suit, because some of the survival gear is in it (PLB, knife, flares, mirror, and other small stuff). Only problem is that I washed it on a washing machine, and now, with the flight suit, I look like a hot dog.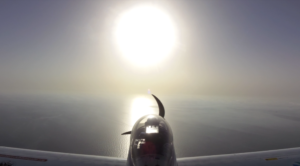 Over water, into the Maltese Sun
This time, I was ready for the flight: I had a sandwich and a plum cake. The plum cake is not a ¨nutrition online¨ one, but helps to have a better attitude !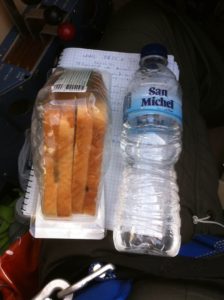 High altitude sandwich and a bottle telling about me !
Flight plan was a Zulu one: it means that I would fly VFR until reaching Egypt FIR, where IFR is mandatory.
That would be easier to climb and descent for a vertical study of the area, as I was requested by Doctor Lucas Alados, the project scientific.
Then, I would fly direct to a point called Salun, and then to destination Mersa Matruh (HEMM).
All the flight was good, with nice tail winds, but the climbs were hard: aircraft heavy, a lot of drag, and finally, an oil temperature caution light, even with the almost flat climb I was using.
Then the fun started…EC XLL, Malta control: Cairo wants you to fly to Patix, and climb to 8500 ft before reaching Arlos point. That meant another 100 nm overwater, to finally turn right, not into destination, but south into Alexandria and then west for 50 NM into destination: one hour and half more flying time, and no way to have their mind changed.
The controller told me that I had to follow my flight plan, and I tell him that it was what I wanted, and they were the ones changing my flight plan.
I am not to complain about Egypt controllers, but I complain about that single one. It is clear that he was not helpful and doesn´t understand what is a light airplane on a single engine.
Fortunately, my dinner provided the right feeling for him: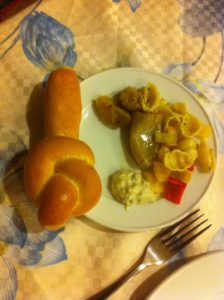 The landing airport, is a military and civilian one. Plenty of scattered fighter refuges and some helicopters.
Police, Army, Fuel service, Handling agent, all were kind.
When I was ready for the strip tease , they politely signaled me the bus, to commit such a transformation. Then it was time to tie down the airplane, but no tie down points, so the provided me two wheel chocks per side, to be used as weight. I explained him that the aircraft would lift easily 600 kgrs if it is really windy….
He understood fast, and a few minutes later, he arrived with two large baggage wagons , one per wing, to tie the airplane in. That was clever and I feel much better.
The day after tomorrow, I will fly to Sudan. It a new area for me, another adventure. I will have to fly high over Egypt, and from high altitude, our beautiful Earth becomes a 2D map, a true pity. Only good thing is that it will be colder up there.
I am feeling better, all the heavy last days are starting to be gone, and I start to have more energy.
Antarctica is in my mind and I feel concerned about: it is not the piece of cake I had as breakfast this morning. I will go for it !