So, after some brainstorming from you, guys, I would like to provide some information about that very special leg: the North Pole one.
Main issue with my Garmin GPSs was related, as some of you suspected, with the database.
In fact, my Garmin 496 still had the 2001 data base.
Why?
Because I just used it for aerodromes and VOR position back up. Also for coordinates, altitude and speed.
As you can see at the next image, the position of the magnetic North Pole has drifted a lot since year 2001: almost 1000 kms (I never imagined that)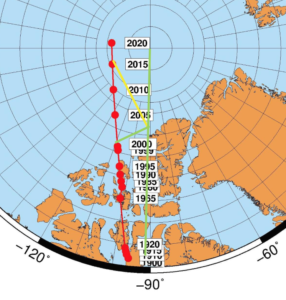 Yellow line is one of the 430 magnetic track (about 035)
I was flying more or less the 95 West meridian, so the magnetic North Pole was west of my position.
When I did compare the tracks, in my previous blog, it is clear that the heading to the 496 North (MH 094) and the 430 one (MH 070) were to be quite different. They were ¨pointing¨into a different point.
Even though the main point to be considered is the local declination, as explained by Pascal Groell, the reference to the respective North Pole was well away. The displayed values were right and now, it is easy to understand what was going on.
Both systems were working perfect before and after the North Pole. I have no idea about why they displayed curved paths into Svalbard after overhead the NP. No idea so far, why the 496 displayed a fan into Svalbard before reaching the NP.
The funny thing was, as explained, at the NP itself.
Have a look at the 496 data when approaching the NP: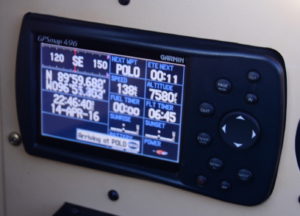 You can see that the 496 track near the NP is around 135
The Z time is 22:46-40
The flight time is 06:45
Speed 138 kts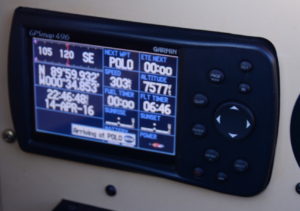 Now, the position is really close to the NP
Z time is 22:46-48 (eight seconds later)
Flight time is 06:46 (one minute later)
Speed 303 kts WOWWWWW ! The fastest RV8 !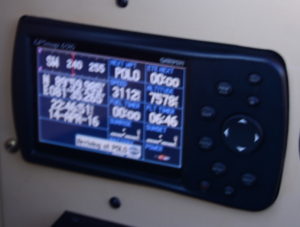 Almost 100 ft away from the NP…
Z time is 22:46-51 (three seconds later)
Flight time is 0646…OK!
Speed 3112 kts 🙂 🙂 5760 kms/h FAI C1C speed world record !!!!
What a clean aircraft is my RV8, and flying almost level !!!!
Wow, wow, wow, wow and woooooooow !!!
But the airframe nose didn´t change, no tunnel vision, no magic lights…
And then: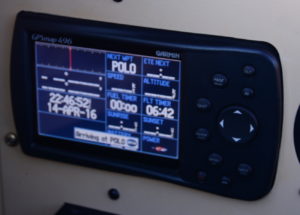 No speed ????
Z time 22:46-52 (one second later)
Flight time: 0642
Flight time minus four minutes????
That remembers me Superman travelling through the time!
Where I was? May be a Santa Claus threat to confuse me?
North Pole is interesting: don´t you think so?