Comandante Messías arrived next to my aircraft.
Skinny and really kind, it was not necessary for him to introduce himself.  I already knew he was Joao´s friend.
And since that first contact, no free time at all. It is really astonishing how he, and the others pilots around, take care of me.
So, a lot of chatting, a lot of questions and a lot of fun.
The best was to come next day: I was going to fly Messías´seaplane.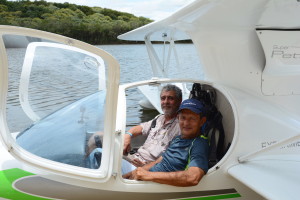 The Petrel is a nice Brazilian design, Rotax powered, biplane airplane.
I liked it very much. Manaus Flores airport is plenty of them, and I did understood why.
The Comandante Messías Petrel had a very special device on it. All the Amazonas is plenty of small vultures. Those are mostly thermaling around and are a big danger for the airplanes.
If they fly in front of the airplane, or below, no problems.
They always dive to avoid an impact, but always is always, so if the unlucky pilot approaches some of those vultures, and they are slightly above, they will dive into the airplane and crash in it …!
The device that Messías is testing, is a powerful high pitched tweeter. It seems that the sounds have the vultures moving away of the airplane path. It is quite interesting !
I can tell you that the noise is quite disturbing !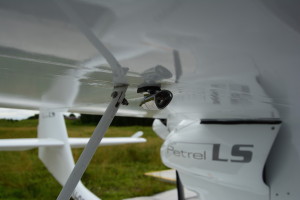 We took off and flew around Río Negro. We flew west and visited a lot.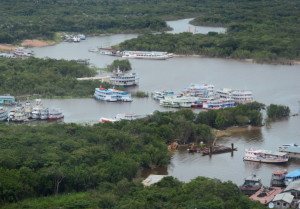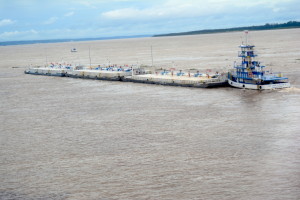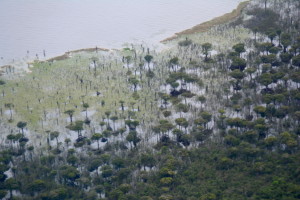 Río Negro has of course, black waters, but those are clean waters.
The other river joining Río Negro is brown. Its name is Solimoes, but actually it is the Amazonas itself.
I did my first ever in my life splash on water. Then Messías asked me if I wanted to try, and of course I wanted !
First one was in the center of the river. Water surface was choppy so it was a bounced landing. Then we flew next to the shore, and I got two nice ones !
Flying amphibians planes is really nice and I don´t understand why it is almost forbidden in Spain. Contrary to boats, Seaplanes are environmental clean ships.
Then we landed at our meeting point, for the lunch.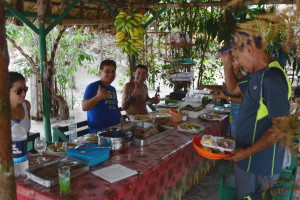 What a place ! It was paradise.
Before flying, Messías bought two huge pieces of Amazonas fish that we stored between our legs, for the flight. That fish was going to be barbecued  later.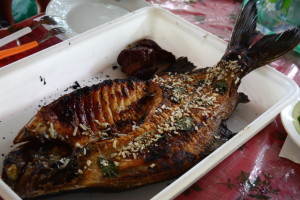 The place was perfect. The hammocks were a nice place to prepare the next leg into Boavista !!!
"Commandante¨ is the spanish/portuguese/brasilean name for ¨Captain¨. So the way to call the other pilots is Comandante.
Comandante Messías, Comandante Michel.