Rada Tilly, is a small and nice city, south of Comodoro Rivadavia.
The land around is dry, somehow aggressive.
But there is the Atlantic ocean, with huge tides, and winds that changes everything.
The huge cliffs around are the joy of paragliders, that kept flying even at night.
13 de Diciembre is the Airfield name, and I have to say that aviation is well there.
A very nice airfield sharing the flight with aircraft modelers and even, sharing the runway.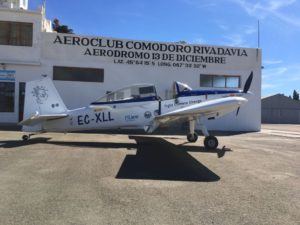 Tinti was the one who organized everything. Unfortunately, he was not there, because of his job as airline pilot.
Not being there with his body, but his mind was flying all around.
He is currently building, together with Chucky, a nice RV7. All the fuselage is plenty of comments and signatures. Now, also mine is there.
A pity that they didn´t like my idea to use a screwdriver for that !
Guillermo (Chucky) was all the time next to me, helping, taking care of everything.
He also drove me everywhere, and supported me with patience and kindness.
The people of the airfield are very nice. Plenty came from around to chat and congratulate me.
Next day was spent in the airfield, and ended with a nice ¨asado¨. That one was delightful.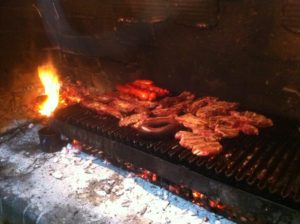 They invited me all the time, all the lunches and dinners. Again, I was feeling that Argentinian kindness and support, and had a big grin inside my heart.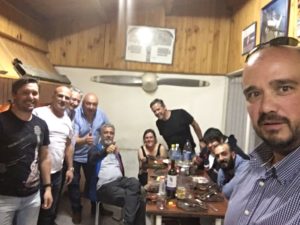 Tinti´s mother came also with a special chocolate cake she cooked for me. It was very good !
Sebastian, a local experimented pilot, made my planning to Buenos Aires area and then to Iguazu, very easy. I was even invited to Bariloche !
Thank you very much, all !
And again it was time to leave. Of course, not without big hugs, pictures and a beautiful book about their aviation.
I took off heading the sea, and turned back for a slow pass. A soft pull up and I was heading north, to see the huge ´Franca ¨ whales, at Peninsula Valdes.
The sea was like a lake, and water was really clean.
Whales were all around, slapping their tails again the water, to salute Skypolaris.
The youngest ones, jumped so high that I was able to fly underneath.
The whales songs were clear even with the engine at full power !
What to say?
Well…. you cannot imagine how much I would like to see that 🙂
Not a single whale, not even a Mermaid! Some of my friends went on a whale watching california experience recently and said how amazing it was, so I'm gutted I didn't get to see any whales!
On and on I went, seeing nothing and nothing !
It was already late, all have gone !
So I approached the shore to sea penguins , and….nothing !
Let us see a Sea Lion…..no Sea Lions.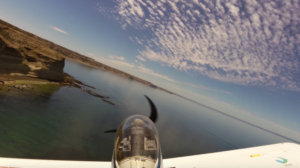 So I shaved the peninsula and followed the shore flying north.
Final destination was General Rodrigues airfield, the heart of Argentinian experimental aviation.
Once I have left the shore, countryside was not as nice than southern Patagonia, so not many pistures were taken.
My VHF 2 radio failed also. Everything looked like it was working nice, but no way to receive any call. My transmits were garbled and low. Mind started to work and select the reason of the failure to work properly. That should be an issue at the antenna !
At the aerial, it was going to be difficult to have the failure, so my first goal was to check at destination, the radio side .
Then, I saw three orange things !
Those things were not in the ground…
May be helicopters flying a formation?
I was steady at 8500 ft. And those things were underneath.
As I approached them. I realized that they were paragliders !
Paragliders, flying around 5000 ft or 6000 ft, over flat land?
Well…later on I was told that they lunch themselves using microlights airplane or other devices.
I do know that VFR means that the pilot is the one responsible to take care of its own separation from other aircrafts, but sometimes, the sight is inside, for instance, when checking the fuel or going to the bathroom.
Those guys have not the means to avoid a collision so….they were prone to be inserted by the pitot tube, and that makes a lot of pain !
Soon I was final of runway 17 , west of Buenos Aires. The turf runway was a nice welcome, after so much time flying over cold areas .
Nobody was outside waiting for me, but soon, everything changed !