Joao was at the hotel exactly at the time that we have agreed. It was at 0600 am.
Santarem Sao Luis airport is about ten miles south of Santarem, and has a nice aeroclub there. The runway is a gravel one, and yes..it is plenty of gravel.
The red color of the runway is like a light in the forest, and easy to locate.
Every place I land in Brasil, I feel the kindness and support of everybody. Always smiling, cold water and /or coffee is offered.
For the RV, at all private fields, a hangar is also offered.
The aviation, the true spirit long time ago lost is Spain, is well alive here and I feel it all the time.
Pilots are very good ones, but it is difficult to know, because they are nice people and not movie stars.
Always supportive and curious about Skypolaris, they ask plenty of question.
The first one is autonomy, and my answer provides big eyes and a big smile.
Joao took me yesterday for a short flight in his 160 hp experimental brasil designed aircraft. We flew west to visit a touristic area at one river that enters the main Amazonas.
That river has clear waters, but the Amazonas has dark brown ones. That is the reason for the Amazonas dolphins to be blind. They don´t need eyes.
Piranhas live at those brown waters, so there is no risk to be bitten by any of them, when swimming in the clear waters of the tourist area.
White sand beaches, umbrellas, and everything that lead into no need to stay at the Caribe.
At the place where both rivers meet, a distinctive line separate both water. If anyone doesn´t know about and see a picture, sure that he thinks that it is a photoshop prepared picture.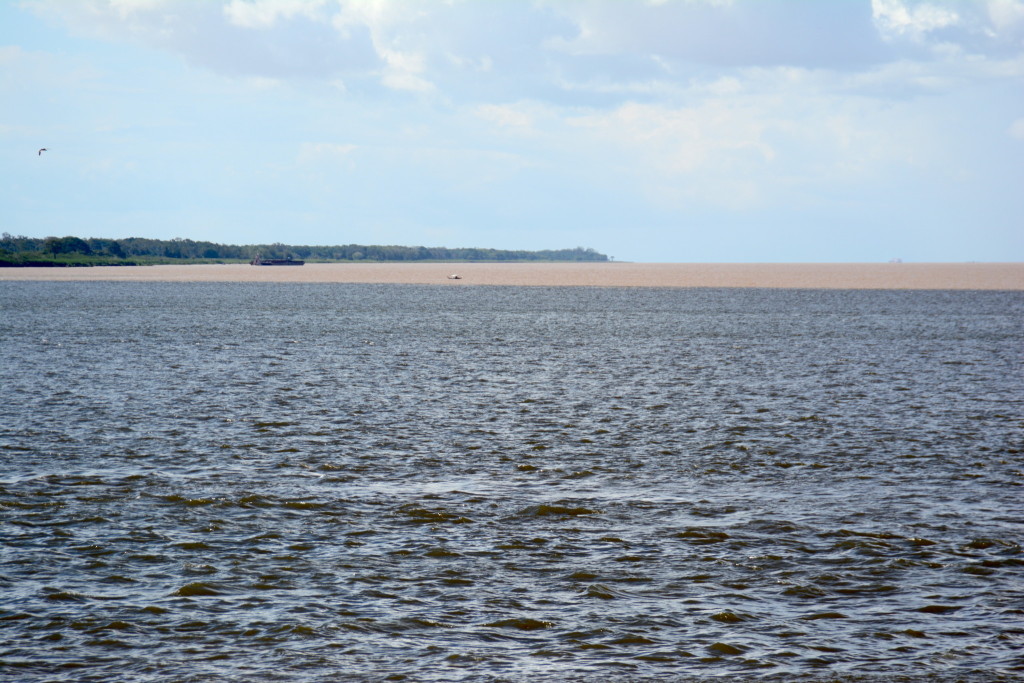 Eduardo (Belem) told me that human killed at the Amazonas are not mainly killed by piranhas….
They are attacked by sharks !!!
Sharks that start to adapt themselves to non salty waters! (in spanish, those kind of sharks are called Tiburon Toro).
So, after that half an hour flight, I was invited to have a wonderful dinner at a restaurant specialized on Amazonas fishes. Everything was very good and there is no chance to enjoy that food in any other place in the world than in the giant river area.
The stay was short. I wanted to take off at 0700 local time. The sooner the better, as weather changes along the day and thunderstorms are a risk.
Take off was downwind. I was enough light for that and also I was able to avoid a long backtrack at the gravel runway.
Rocking the winds, and good bye friends !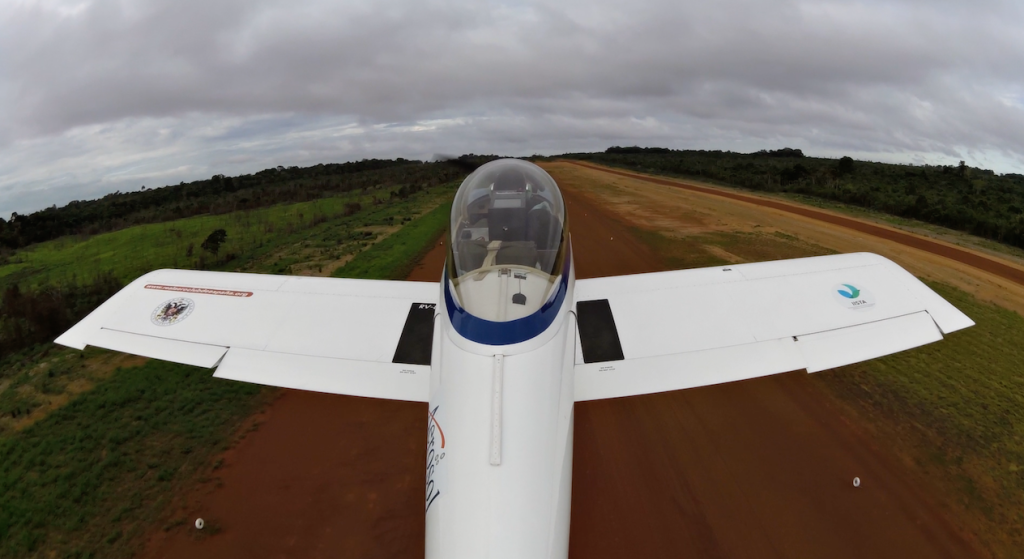 (ailerons position are because of rocking the wings)
Those tiny clouds in front of me changed later.
It was like they were expanding upwards and downwards.
At 1000ft, I was underneath of the ceiling, but that was not for a long time.
I have planned to reach the main Amazonas, heading northwest. It was safer to ditch next to a boat or the shore, than over the trees. But I had to change that and turn west.
Not only the cloud layer became thicker, but new clouds started to elevate from the highly humid forest, blocking the path ahead.
Not a good vision !
Climbing was out of question, as I could enter a thunderstorm without knowing in advance. So after some time, I decided to enter a ¨hole¨underneath and ahead. it was almost an aerobatic manoeuvre, rolling the plane some 90 degrees and plunging down.
I found myself low over the trees but safe. Amazonas is not plenty of poles and wires !
Flying over the forest requires also to carry something to light  a fire.
I thought that it was for scaring animals, but the key is quite different. As the trees canopy swallow every airplane, the fire produce smoke, and the smoke is the only way Search and Rescue locate the survivors!
I finally crossed the weather and then, countryside changed.
The river borders showed open areas and even some cattle.
Horses and cows were quite indifferent to my airplane, even though I was buzzing them.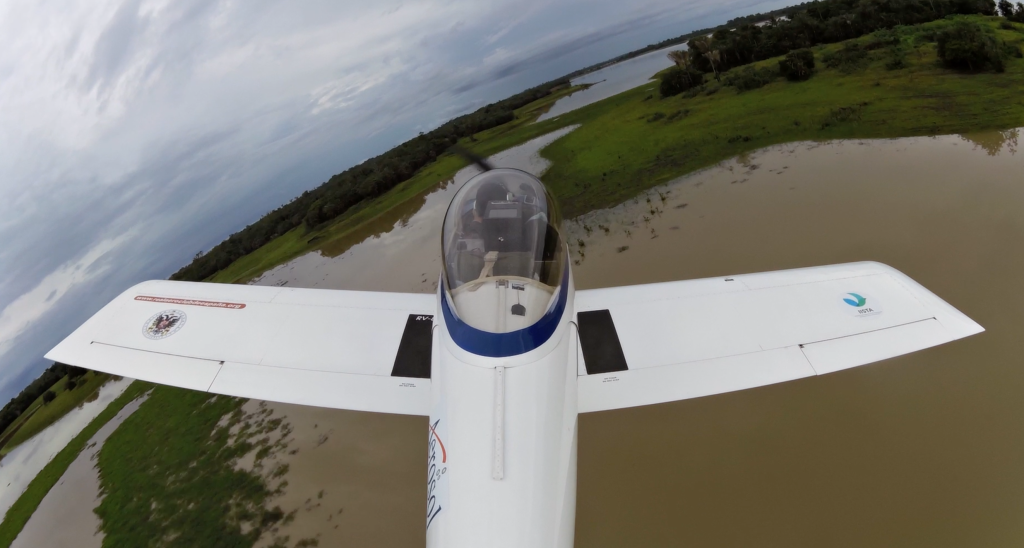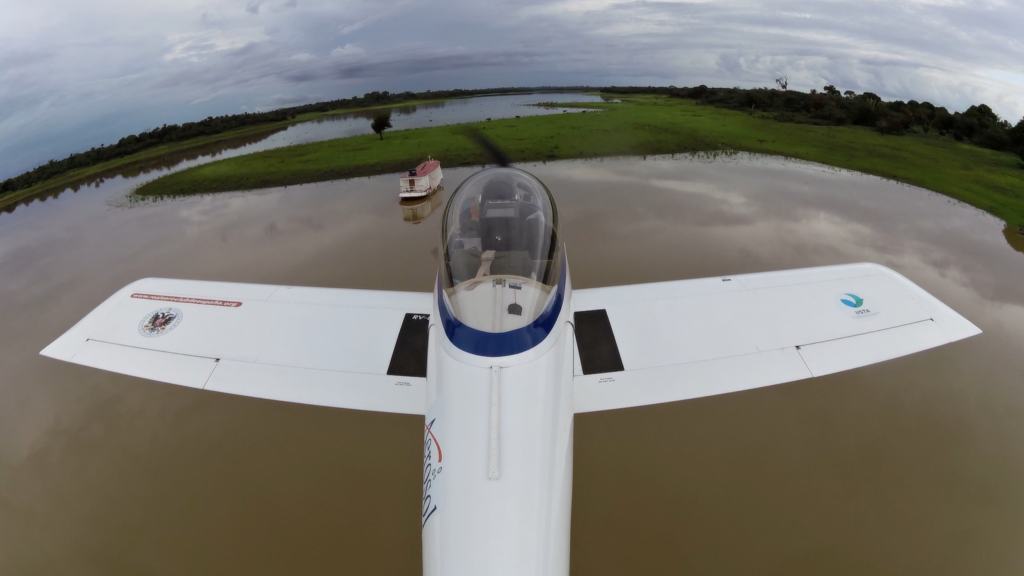 It was a long and beautiful flight at low level. Everything shower up a few microseconds, as speed was high.
Approaching Parintins, I talked to an ¨airliner¨about to take off.
123.45 mhz is the frequency used for that purpose- pilots coordination.
I told the ATR42 turboprop that I was about to overfly the runway, but he didn´t care. The pilot was kind, but they forwarded the throttles and I had to turn to avoid…flying formations (although I was tempted) !
I went down again, following smaller rivers and bigger ones. I was really enjoying!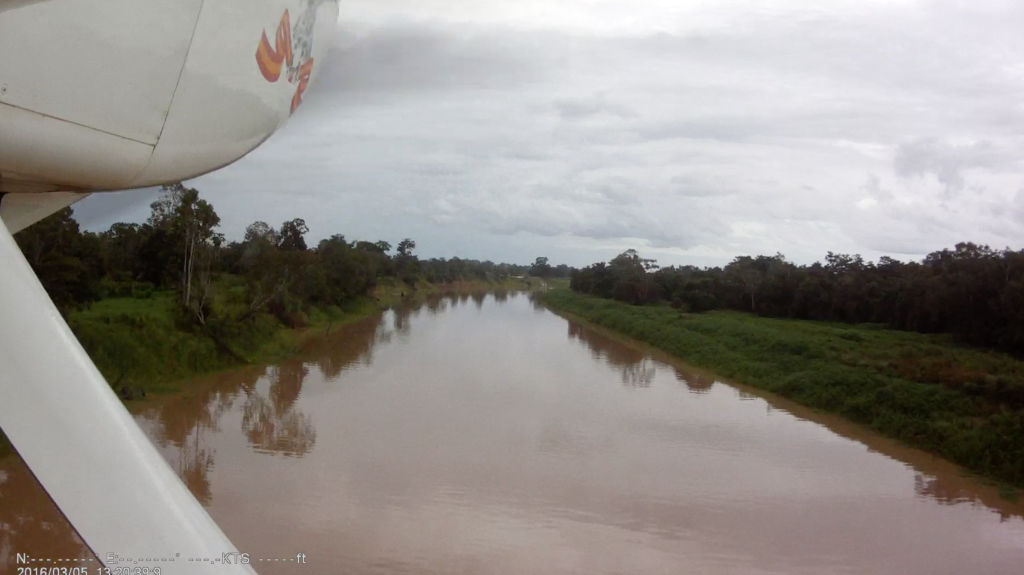 Once satisfied, I climbed to 4500 ft and proceeded to Manaus.
Amazonas is not a sea, but it is huge !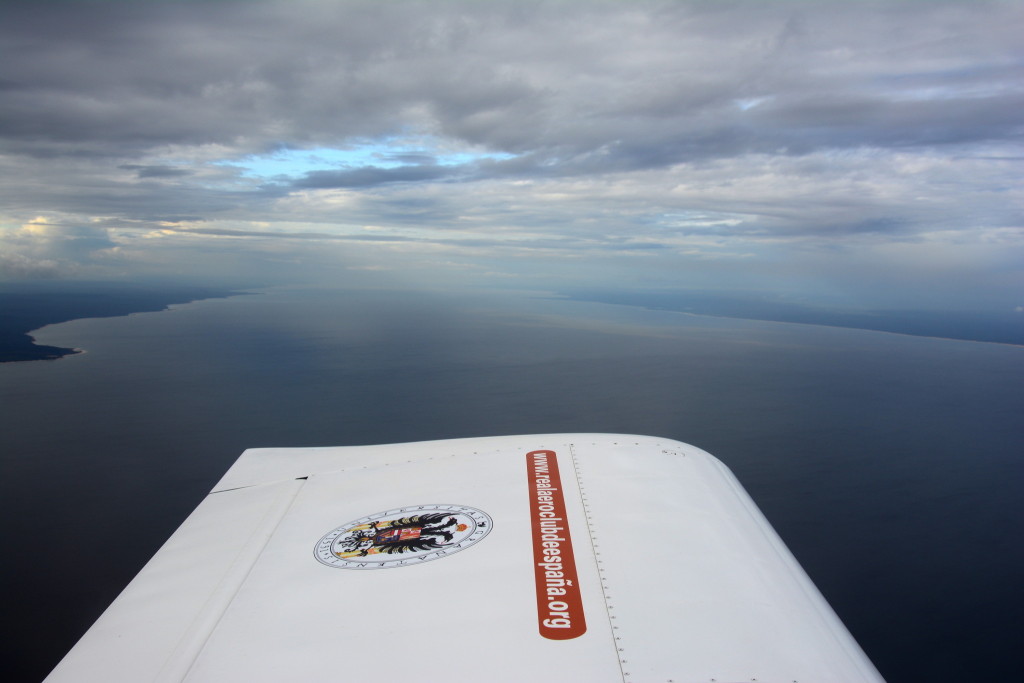 Next to Manaus, it can be as 22 kms wide !
Not to forget that Manaus is supplied by huge ships. The river is the highway of the city to other worlds.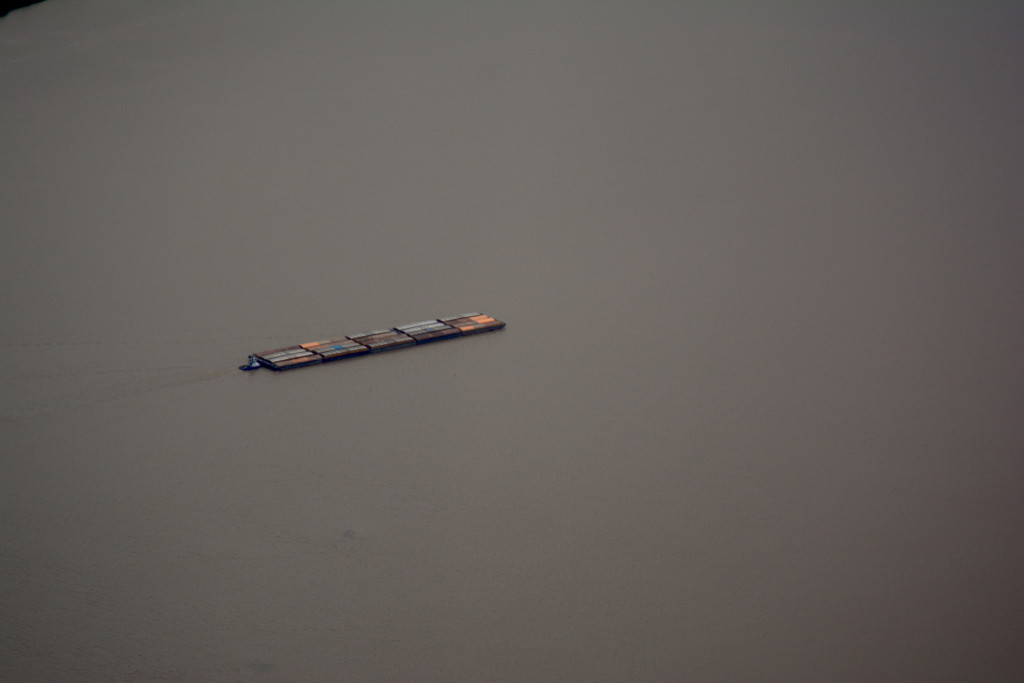 Big ships were in view, and soon the city. The Flores airport is located right in the middle of the city, between a military one and the international one. I like very much the way all aviations types can share very tight areas, and in Brasil there are no problems about.
Procedures are established and that is !!!
Landing was somehow tricky. Not always the landings are show ones. Mine was the kind that can open  eyes. But that was ok, and I vacated the runway forgetting very soon the after landing roll out.
Engine: stopped.
Avionics: OFF
Canopy: opened
Sweeting: ON !
Aethalometer: OFF
Master: OFF
relax myself: ON
Grin: ON
Then, like Tarzan (old one version) I descended from my dear RV and removed all the things I had on me (knife, rope, flight suit, and so)
Messias came to host me. He is a friend of Joao, from Santarem.
But that is another story to come !